Home > News > media reports
2016 Annual Conference & the 15th Session of the Shenzhen Enterprise Innovation Record Results Released Conference Held
Published:2017/1/10 Views:9962
Shenzhen Business News 2016 Annual Conference & the 15th Session of the Shenzhen Enterprise Innovation Record Results Released Conference was held in Wuzhou Hotel, on January 6.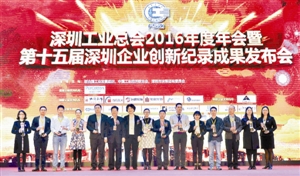 Gu Xiulian, vice chairman of the Standing Committee of the Tenth National People's Congress and honorary president of the China Federation of Industrial Economics, said at the conference that Shenzhen Industrial Association, with the mission of promoting the process of industrialization, has done a lot of fruitful work, in line with the government to advance enterprises carry out brand building, innovation, low-carbon environmental protection, transformation and development since its founding. For the 15 consecutive years of holding the enterprise innovation record validation activities, 2190 independent innovation achievements from 945 enterprises have been identified and rewarded, ranging in the forefront in the national large and medium cities , fully demonstrating the innovation of enterprises in Shenzhen.
Feng Guanping, chief scientist of Shenzhen Industry Association, founder of China graphene industry, at the conference made a frontier report on industrial development, focusing on the current widely used graphene applications and related industries. He pointed out that graphene has superior performance and application prospects in the field of new materials. Shenzhen has the country's largest graphene industry application market, with high-end talent gathering, outstanding research results, completed industry supporting which are the world's unique advantages. It is possible to become the future graphene industry center.
The 15th Shenzhen Enterprise Innovation Record Issuing Ceremony was organized by Shenzhen Industrial Association with participating of 13 government departments and 57 industry associations. After extensive collection, professional assessment, the fifteenth session of the "Shenzhen Enterprise Innovation Record" approved 156 projects, a total of 30 innovative enterprises in recognition. Among them, inculding Chen zhilie , the chairman of Yanxinag Intelligent Technology Co., Ltd., a total of 12 entrepreneurs won the "Outstanding Contribution Award Entrepreneur"; Shenzhen Hong Tao Decoration Co., Ltd. and other 13 companies won the "Independent Innovation Benchmarking Enterprises"; Shenzhen Lian Shuo Automation Technology Co., Ltd. and other 8 enterprises won the "Independent Innovation Demonstration Enterprise"; Guangdong Adway Construction (Group) Co., Ltd. and other 6 companies won the "Energy Saving Demonstration Enterprises"; Shenzhen Huada Optoelectronics Technology Co., Ltd. and other 7 companies won the "Yong Independent Innovation Enterprises". In addition to decoration, electronics, machinery and other traditional industries, there are also intelligent systems and equipment, new energy, new materials, robots and other emerging industries. There are 66 invention patents authorised, representing an increase of 20.7% of the total number of projects, becoming Shenzhen another bright spot of enterprise innovation.
Wang Zhaowen, the counsellor of Shenzhen People's Government, the executive chairman of the Shenzhen Industry Association, said in an interview with reporters that the Shenzhen enterprise innovation record has become a stage to promote independent innovation, scientific and technological progress, to display innovation achievements. It has played a positive role in implementation of national innovation-driven strategy, to carry out national innovation-oriented city construction and the construction of high quality city.